Actor Nipsey Russell, who had been suffering from cancer, died Sunday afternoon at Lenox Hill Hospital in New York....
EURweb reports that reggae signer Buju Banton is set to go on trial Oct. 19 for his alleged role...
During an appearance on ABC's '20/20′ American Idol winner Fantasia Barrino revealed that she is functionally illiterate. "You're illiterate...
Mogul Dame Dash released a state concerning the sale of his 25% stake in the Rocawear colthing company: "I...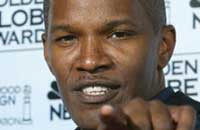 Last month Hollywood.com reported that Oscar winner Jamie Foxx erupted on the set of his new movie "Miami Vice"...