Nas joined MoveOn.org and ColorOfChange.org at the midtown Manhattan headquarters of cable news station, Fox News, yesterday to protest...
South African stand-up special "Kill the Messenger" airs in September. Chris Rock will be back on HBO this fall...
Breath easy, Sylvester Stallone is fine, unfortunately Estelle Getty has passed away. The former Golden Girl passed away in...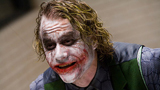 After weeks of denying he was once employed as a prison guard TheSmokingGun.com yesterday posted a report detailing the...
Christian Bale surrendered to London police today after his mother and sister filed assault charges against him for an...