JoJo Simmons, the son of Joseph "Reverend Run" Simmons and nephew of music mogul Russell Simmons, was arrested by...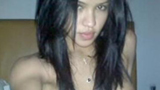 Cassie is the latest celebrity (sic?) to have her goodies flashed all over the internet. Earlier this week pictures...
Lil' Kim was shown the door last night (May 5) on ABC's competition show, "Dancing with the Stars." Despite...
T-Pain as Frylock sporting a French-fry-yellow version of his trademark top hat on the set of Aqua Teen Hunger...
Kelis Roger-Jones has filed divorce paper against her husband of 4 years, rapper Nas, real name Nasir bin Olu...
Stallone and Tarver in 2006's "Rocky Balboa" Boxer Antonio Tarver is ready for another bout with Rocky. This time...