Pop music legend Michael Jackson collapsed at his Los Angeles, California home around noon Pacific time today (June 25)...
Rapper Tru Life was arrested for the murder of one man and the attempted murder of another during a...
Dennis Rodman lucked out this week as a Florida court awarded he $7,500, the balance owed to him for...
Professional internet gossiper Perez Hilton filed a lawsuit against the Black Eyed Peas' tour manager, Polo Molina for battery...
Ed McMahon, former sidekick of Johnny Carson on The Tonight Show and Publishers Clearing spokesman died early this morning...
Chris Brown is now a convicted felon after the pleading guilty yesterday (June 22) to felony assault by means...
According to YBF.com actress Lauren London (ATL) is 5 months pregnant with Lil Weezy Jefferson's baby. From YBF.com: Lauren...
In a scene out of a movie or a page out of a twisted fairytale, a rapper shot another...
The Hangover star Bradley Cooper is headed over to The A-Team. The 34-year-old is said to be in the...
Kobe, Lakers celebrate Game 5 win over Orlando Magic to claim NBA title The Los Angeles Lakers and there...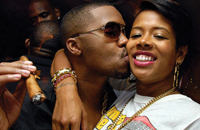 Signer Kelis, the estranged wife of rapper Nas, took to the web yesterday, giving fans a brief glimpse in...
Photo: Dom 0815 The body of Kill Bill actor David Carradine was found lifeless in a Thailand hotel. The...
Two down three to go. Singer-actress Brandy Norwood has settled 2 of 5 lawsuits filed against her in the...
Photo: Samuel_Tan 50 Cent was in court on Monday (June 1) where he took the stand and testified to...
Sanaa Lathan @ the '09 Tribeca Film Festival. Photo: allcelebpics Sanaa Lathan will be reuniting with her "A Raisin...