"Thats why when I drop loads in hoes, they dont knw my name…this is why…" *A comment left by...
Kelis (above) hit the jackpot today as Judge awards her huge divorce settlement. Signer Kelis is in recovery today...
Nas Kelis, the estranged wife of rapper Nas, went into labor this morning and gave birth to the couple's...
Tyrese Gibson, during better times with his estranged wife Norma. The two are locked in a bitter, public divorce....
JoJo Simmons A New York judge handed down a one-day community service sentence to Joseph "JoJo" Simmons Jr. after...
Terry Crews at the Get Smart movie premiere, Fox Theater, Westwood, CA (June 16, 2008). Photo: ZigZagLens Bosses at...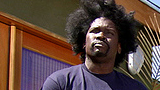 Dearon 'Deezer D' Thompson (L) with Joe Clair (R) in the 2007 romantic comedy Lord Help Us. Actor Dearon...
Bone Thugs-n-Harmony preform at Club Nokia in Los Angeles (June 2009). Photo: Globex Corp Texas-based Songster, a music publishing...
Kelis and Nas at the 2006 B.E.T. Awards The divorce fight between Nas and Kelis is just starting. In...
Arturo Gatti Brazilian police have arrested Amanda Rodrigues for the murder of her husband, boxing legend, Arturo Gatti. Gatti's...
Jamie Hector UPDATE 3:00 pm: Despite earlier reports, sources close to Jamie Hector have stated that the men who...
British DJ Adam Freeland has taken to Twitter.com to vent about what he says is a clear case of...