A Los Angeles woman has filed a lawsuit against Chris Rock claiming the comedian's upcoming film Good Hair is...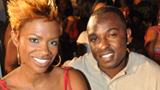 Police have made an arrest in the death of Ashley "AJ" Jewell, pictured above in an undated photo with...
Method Man surrendered to the Staten Island D.A. yesterday (Oct. 5) for failing to pay $32,799 in income tax.