The Postman
1997
---

Starring: Kevin Costner, Will Patton, Larenz Tate, Olivia Williams
Director: Kevin Costner
Writers: screenplay: Eric Roth novel: David Brin
Cause of Apocalypse: Unknown
The Plot: It's 2013 and the world has gone to hell in a breadbasket, the Pacific Northwest has reverted to the Old West and pockets of militia roam the countryside pillaging random settlements. Enter The Postman, a defector of a band of murderous neo-Nazis lead by a former copier salesman. General Bethlehem. The Postman, as he's referred to throughout the film, is aptly named because of the U.S. Postal Service uniform he wears (while escaping from Bethlehem's semi-fascist goon squad he stumbled on an old mail truck, taking the uniform from the long-dead driver and a bag of mail, and poses as a mailman). He proceeds to con locals of a secluded walled town into thinking he's a representative of the pony express, part of the newly reformed United Stated Government, in exchange for food and board.
But as folly, circumstance, and the formulaic plot would have it, Costner's courier reluctantly rises above his own interest to become a symbol of hope and a catalyst for an insurrection against Bethlehem and his sadistic hordes. (filmthreat.com)
The Bad: Postman follows the typical Hollywood/Costner formula: World in chaos, loner man guilt tripped by adorable kid or pretty lady to become involuntary hero, end credits (see: Dances with Wolves, Water World).
The Good: Based on David Brin's futuristic cult-fave novel, Will Patton the spell-binding in his role as the tyrannical megalomaniac fascist. Costner, who channels his "Waterworld" and "Dances With Wolves" characters, manages to be palatable, despite his familiar casting.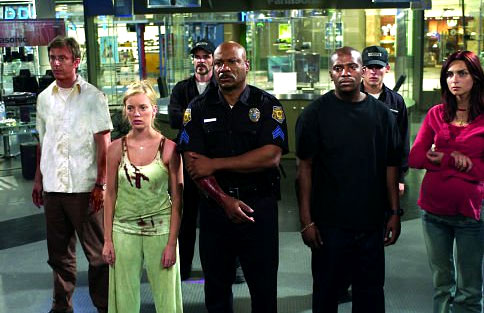 Dawn of the Dead
2004
---

Starring: Ving Rhames, Sarah Polley, Mekhi Phifer
Director: Zack Snyder
Writers: James Gunn, George A. Romero (1978)
Cause of Apocalypse: Unknown
The Plot: It's 2013 and the world has gone to hell in a breadbasket, the Pacific Northwest has reverted to the Old West and pockets of militia roam the countryside pillaging random settlements. Enter The Postman, a defector of a band of murderous neo-Nazis lead by a former copier salesman. General Bethlehem. The Postman, as he's referred to throughout the film, is aptly named because of the U.S. Postal Service uniform he wears (while escaping from Bethlehem's semi-fascist goon squad he stumbled on an old mail truck, taking the uniform from the long-dead driver and a bag of mail, and poses as a mailman). He proceeds to con locals of a secluded walled town into thinking he's a representative of the pony express, part of the newly reformed United Stated Government, in exchange for food and board.
But as folly, circumstance, and the formulaic plot would have it, Costner's courier reluctantly rises above his own interest to become a symbol of hope and a catalyst for an insurrection against Bethlehem and his sadistic hordes. (filmthreat.com)
The Bad: Postman follows the typical Hollywood/Costner formula: World in chaos, loner man guilt tripped by adorable kid or pretty lady to become involuntary hero, end credits (see: Dances with Wolves, Water World).
The Good: Based on David Brin's futuristic cult-fave novel, Will Patton spell-binding in his role as the tyrannical megalomaniac fascist. Costner, who channels his "Waterworld" and "Dances With Wolves" characters, manages to be palatable, despite his familiar casting.
The Day After
1983
---

Starring: Jason Robards, Steve Guttenberg, William Allen Young
Director: Nicholas Meyer
Writer: Edward Hume
Cause of Apocalypse: Nuclear Holocaust
The Plot: Set in the mid-1980s, a still solvent and intact but clearly insane Soviet Union declares war on West Germany, attacking the severed country with a nuclear ballistic missile, and then attacking a U.S. warship in the Persian Gulf. All out war ensues as the Russians launch a nuclear strike against the U.S. America counterstrikes, billions are killed instantly as the world is thrown into nuclear winter.
The Bad: If there is to be any complaints about "Day After" it is that is was on the small screen. A movie as surreal and important as this (it was produced and released during the height of the U.S./Soviet cold war) deserved the big screen treatment.
The Good: While never having lived through a nuke blast myself this movie pretty much reinforced every preconceived notion I had about the aftermath of a nuclear attack, from looting to flash blindness to radiation poisoning. Surprisingly for a made-for-t.v. movie "Day After" is pretty graphic in its depiction of nuclear annihilation from vaporized citizens to slow-dying fallout survivors.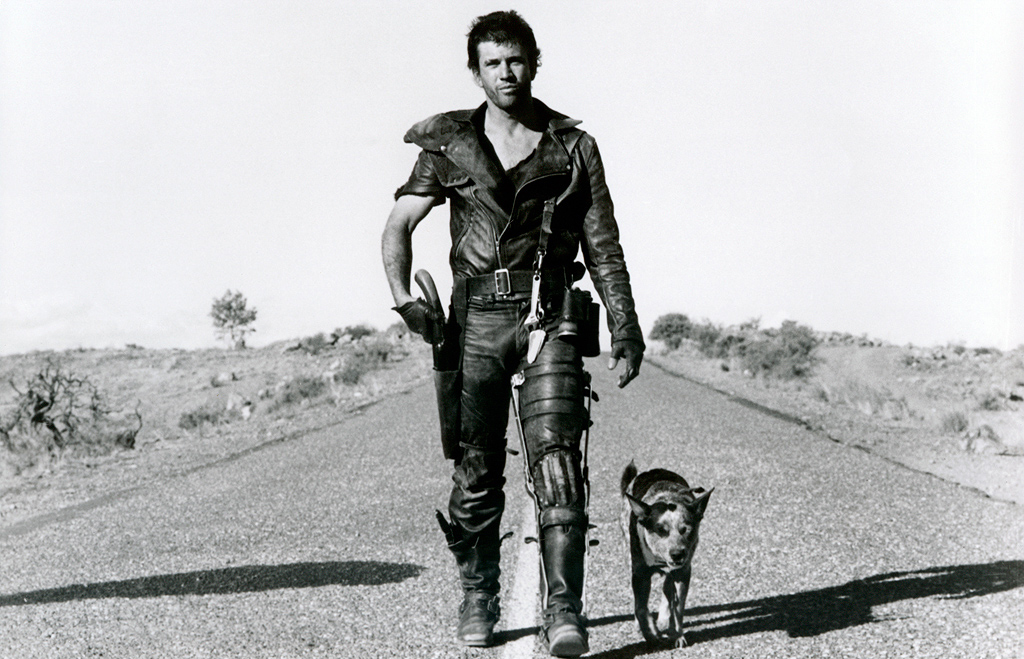 The Road Warrior:
Mad Max 2
1982
---

Starring: Mel Gibson
Director: George Miller
Writers: Terry Hayes, George Miller, Brian Hannant
Cause of Apocalypse: World War
The Plot: After the oil industry-driven world economy collapses (wow, talk about foreshadowing) the planet experiences it's 3rd world war. The result, earth is left a wasteland with small groups of bandits pillaging any oil they can find. Enter Mad Max (Mel Gibson), a former highway patrolman-turned-nomad whose family was brutally murdered in the privious film ("Road Warrior" is the sequal to 1979's "Mad Max"). As a band of leather-clad evildoers prepare to storm a small gasoline rich town in the middle of the Australian wasteland, Max reluctantly agrees to help them escape the coming onslaught.
The Bad: There's no real tie-in to the previous movie or in-depth explanation of the events that led society's demise. In a mere two years or so since the character was first introduced in "Mad Max" the world has devolved into a giant dust ball of despair.
The Good: This is a badass movie as evident by the opening narration: The world has "crumbled …the cities have exploded;" life has become a "whirlwind of looting and a firestorm of fear, in which men began to feed on men." –Wow! Now that's a hell of an intro. Mel Gibson, as 'Mad' Max Rockatansky, delivers a solid performance that paved the way for his future Hollywood success in a film that is arguable the blueprint for all post-apocalyptic-last-man-on-earth epics that followed (See "I Am Ledgend"). In addition to CGI-less action and gratuitous explosion scenes, in true 80's film form "Road Warrior" culminates in a terrific car chase.
The Quiet Earth
1985
---

Starring: Bruno Lawrence, Alison Routledge,
Peter Smith
Director: Geoff Murphy
Writer(s): screenplay: Craig Harrison novel:
Bill Baer
Cause of Apocalypse: Science experiment gone wrong
The Plot: Bruno Lawrence stars as Zac Hobson a scientist working on a top-secret energy project for the military. On the eve of the project's launch, and feeling guilt over his part in its creation, Zac commits suicide, only to wake up to find all the other inhabitants of the planet have died. Zac quickly comes to grips with being the last man of earth as he slowly becomes unhinged, declaring himself world dictator, before coming across two other "survivors" (a woman, Joanne, played by Alison Routledge, and a man, Api played by Peter Smith) and discovers that, like him, they were in the process of dying when the project/weapon was initiated.
The Bad: The Quiet Earth's intriguing ending leaves room for interpretation, discussion and argument.
The Good: Directed by New Zealand's Geoff Murphy, The Quiet Earth's plot, direction, high production values and imaginative graphics quickly made it a cult classic. Lawrence and Routledge turn in note worthy performances.
Planet of the Apes
1968
---

Starring: Charlton Heston, Roddy McDowall, Kim Hunter
Director: Franklin J. Schaffner
Writers: screenplay: Michael Wilson, Rod Serling novel: Pierre Boulle
Cause of Apocalypse: Evolution? War? Genetic Experiment gone bad?
The Plot: After their spaceship crash lands, three surviving members of a 4-man crew awake from deep hibernation and find themselves on an unknown, presumably distant, planet not unlike their own, earth. They're soon captured by the planet's inhabitants: intelligent, english-speaking apes. What follows is a saga of death, forced brain surgery, friendship and inter-species love as the one remaining astronaut escapes to the wilderness in search of a way off the monkey-ruled world only to discover that God has a cruel sense of humor.
The Bad: There's never any clear explanation of how the humans devolved to grunting wild animals and what, or how, the apes evolved to the point that they become the dominant species.
The Good: Charlton Heston delivers a stellar performance as George Taylor the lone astronaut to make it to the end of the movie and introduces one of the most memorable lines in American cinema. While being manhandled by an ape overlord Taylor yells out the first words the apes have ever heard a human speak, "Take your stinking paws off me, you damned dirty ape!"
12 Monkeys
1995
---

Starring: Bruce Willis, Brad Pit
Director: Terry Gilliam
Writers: Chris Marker, David Webb Peoples, Janet Peoples
Cause of Apocalypse: Bio terror, Lethal epidemic
The Plot: In 2035 the few surviving humans (a mere 1% of a 5 billion population) of a 1996 bio attack by a group know only as the Army of the Twelve Monkeys are forced to live below ground to escape the lethal atmosphere. A plan is devised to send convict James Cole (Bruce Willis) back in time to '96 to collect information about the virus that will help find a way to live safely above ground again. Cole is instead accidentally sent to 1990 where he is arrested, placed in a mental hospital and diagnosed with Cassandra Complex, a mental illness where patients believe they can predict a doomed future.
The Bad: Box Office Sales: Despite a strong opening weekend (it grossed over $13.8 Mil) "Monkeys" suffered the same theater-snub that befell similarly good films such as Stephen King's "Shawshank Redemption" and Alex Proyas' "Dark City", though to a slightly lesser degree, pulling in just over $57 million during it's domestic run.
The Good: An underrated sci-fi gem "12 Monkeys" is a demented and intense psychological drama that has gotten very quiet praise. Adapted from Chris Marker's 1962 short film "La JetTe," screenwriters David Peoples ("Unforgiven", "Blade Runner") and his wife, Janet, infused this bizarre time travel tale with their own brand of dark storytelling. A departure from his typical fast action flicks, Willis, who manages to play a character that is not a hybrid of himself and "Die Hard" hero John McLean, delivers an incredible performance alongside Brad Pitt who plays villain to Willis' anti-hero. As reviewer Dennis Schwartz wrote "Under Terry Gilliam's direction this unpleasant mess turns into a weirdly drawn lyrical work of strange beauty that is impervious to its own bleakness and the mess it made."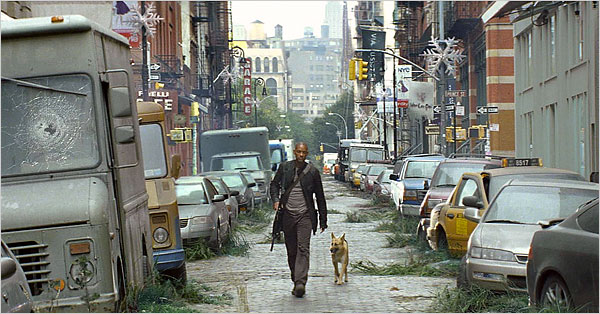 I Am Legend
2007
---

Starring: Will Smith, Dash Mihok
Director: Francis Lawrence
Writers: screenplay: Mark Protosevich, Akiva Goldsman novel: Richard Matheson
Cause of Apocalypse: Man-made Virus
The Plot: A man-made cancer cure mutates into a killer virus that wipes out most of humanity, those not killed are transformed into nocturnal monsters. Military scientist Robert Neville (Will Smith) is the sole survivor in New York City, immune to the plague he works tirelessly during the day to find a cure… or other immune survivors.
The Bad: While the acting and set design don't leave too much room for criticism the same can't be said for the writing. In particular, the ending of the film left many people staggering out of theaters scratching their heads. While diligence was taken in providing moviegoers with the back-story of the plague-ravaged earth and Neville's own personal tragedy, the ending itself seemed rushed and frankly didn't make much sense.
The Good: One of his best works to date, Will Smith's portrayal of the last man on earth is riveting. His trips to the video store, golf outings and attempts at maintaining a routine life underscore the dangers he faces at the hands of former humans after night falls. Smith's performance is out done, perhaps, only by the City of New York. In the three years since the plague ravaged the planet, New York City has become a literal urban jungle. Director Francis Lawrence apparently spared no expense in transforming the sprawling metropolis into a vast decaying wilderness.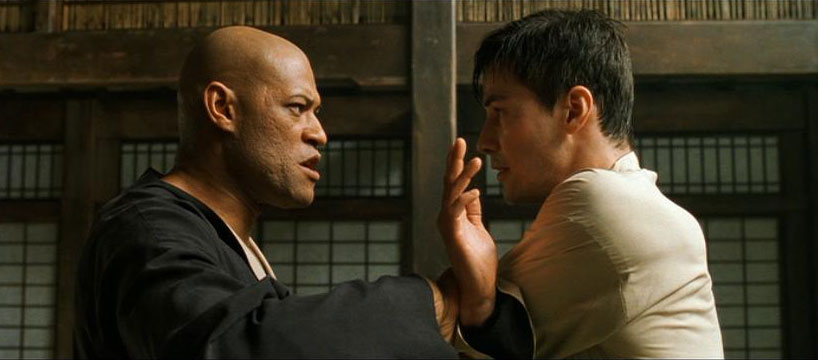 The Matrix
1999
---

Starring: Keanu Reeves, Laurence Fishburne, Carrie-Anne Moss
Directors: Andy Wachowski, Larry Wachowski
Writers: Andy Wachowski, Larry Wachowski
Cause of Apocalypse: Sentient computer/killer robots, War
The Plot: 1999 is the year computer programmer Thomas A. Anderson's life changed forever. A hacker by night, Anderson (known as Neo to his less-than-corporate clients) becomes a person of interest to the authorities after a notorious hacker, Morpheus (Laurence Fishburne), makes contact with him. Anderson is soon thrust into a surreal game of Simon Says with the mysterious Morpheus barking seemingly unknowable instructions. Things go from unbelievable to unreal for Anderson as the true nature of the world he lives in is reviled to him. A world where a long-ago lost war with sentient computers/robotic life forms has left the world a desolate wasteland and the remainder of the human race unknowing-prisoners in a computer generated virtual world called the matrix.
The Bad: A mere 8 years removed from his Oscar worthy performance in the "Bill & Ted" film series, Keanu Reeves (Neo) in the role of super action hero seems awkward in certain scenes. At times contributing little in terms of monologue while provide plenty of his signature catch phrase "whoa," possibly a holdover from his "Bill & Ted" days.
The Good: Although "The Matrix" recycles the storylines of less successful predecessors "Dark City" and "Strange Days" the film works well by combining Chinese-style choreography typical of kung-fu films with traditionally American gunplay and pulse raising chase sequences. Outstanding cinematography by Bill Pope coupled with the directing technique of the Wachowski brothers brings this imaginative and suspenseful vision of humanity's dark future to life.
Children of Men
2006
---

Starring: Clive Owen, Julianne Moore, Clare-Hope Ashitey, Chiwetel Ejiofor, Michael Caine
Director: Alfonso Cuarón
Writers: screenplay: Alfonso Cuarón, Timothy J. Sexton, David Arata, Mark Fergus, Hawk Ostby novel: P.D. James
Cause of Apocalypse: Infertility
The Plot: It's 2027, at the age of 18 the world's youngest citizen has just died and mankind is facing the possibility of its own extinction. Women can no longer conceive children and science is at loss to explain the reason. Theo Faron (Clive Owen) a former peace activist is recruited by his ex-wife Julian (Julianne Moore) to protect a woman who has miraculously became pregnant.
The Bad: Shit! The future's fuckin' bleek.
The Good: This compelling narrative takes the post-apocalyptic genre and turns it on its head. Beautifully directed by Alfonso Cuarón, "Children of Men" paints a somewhat plausible picture of the possible end of the human experiment. With no over-the-top special effects to distract the film relys a strong script and extordiary camera work to draw in the viewer.