Mark Whitlock and Bob DeMoss sell boxes of "Obama Waffles" at the Family Research Council's summit in Washington
Family Research Council, the Christian conservative political group, is catching flack as news surfaces of a racially sensitive incident at the group's Value Voters Summit in Washington this past Saturday (Sept 13) where Mark Whitlock and Bob DeMoss purchased a booth to sell boxes of "Obama Waffles".
Whitlock and DeMoss, who ironically are Christian pastors, set up shop selling the $10-a-box waffle mix that depicted presidential nominee Sen. Barack Obama and his wife in what many see as racist caricatures.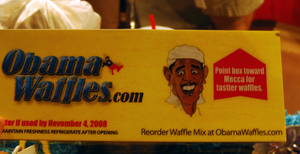 The yellow box feature a drawing of Sen. Obama with exatuated features smiling at a stack of waffles, along with other, more offensive, artwork:
Speaking to a reporter, DeMoss stated, "I understand that it's not for everyone. But we don't have a racist bone in our bodies. This is humor, not hate."
Business at the booth, at this "Christian" event, was brisk, with DeMoss and Whitlock saying they sold more than 400 boxes before being shut down by event organizers. Even CNN's Lou Dobbs got in line for the racially charge waffles.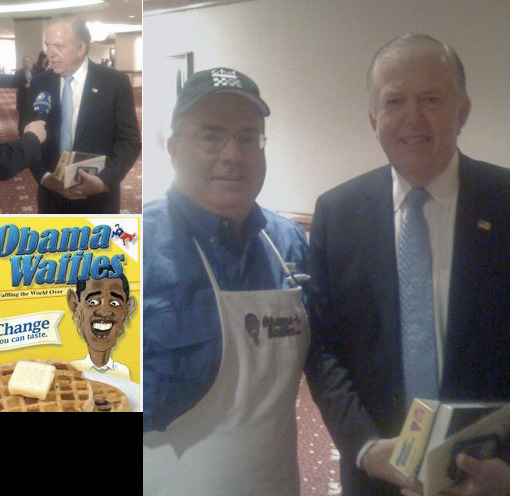 Sen. Obama's campaign has declined to comment.
source: Jesus21.com, ChristianityToday.com