Jamaican police arrested reggae artist Elephant Man, real name O'Neil Bryan, Monday (Jan. 30) on accusations of rape.
It's being reported that Avery Brooks, who's been referred to as the Barack Obama of the Star Trek universe*,...
Adidja Palmer, better known as to fans of Dancehall Reggae as Vybez Kartel, has been hit with murder and...
Miami police arrested rapper Big Boi of the rap group Outkast on Sunday and charged him with three counts...
Former New York Giant Lawrence Taylor appeared in court today (Jan. 13) to plead guilty in connection to his...
Edward Furlong found himself behind bars on Tuesday (Jan. 11) after violating a restraining order that barred him from...
Former music honcho Kareem Burke, know throughout the music industry simply as Biggs, was arrested this morning by federal...
R&B signer Mario was taken into Baltimore police custody on Friday (Oct. 1) and changed with second-degree assault after...
Rapper Kid Cudi plead guilty to misdemeanor drug possession charges on Friday (Sept. 24), ending a nearly 4-month legal...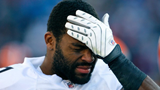 NFL star Braylon Edwards was arrested at 5:15 in the morning on Tuesday (Sept. 21) during a traffic stop....
Russell Brand was arrested today (Sept. 17) at Los Angeles International Airport following an altercation with a photographer. The...