Queen Latifah is trying to have a baby. Appearing on 'The View' to promote her latest project, Ice Age:...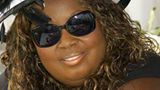 Star Jones pre- and post-surgery. Recently separated Star Jones (Reynolds) has fired back at Barbara Walters after the veteran...
Former Massachusetts Senator Edward Brooke. Longtime ABC journalist and The View producer/co-host Barbara Walters has revealed on the Oprah...