Jay-Z has thrown a wrench in Kanye West's wedding plans, turning down the chance to be West's best man....
Usually one to stay quiet when it comes to rumors and other people talking about him in the media,...
By David Nazario It seems like the Illuminati and anything having to do with comparing yourself to God is...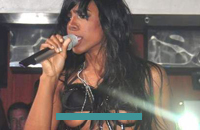 In what might arguably be a desperate move to get out of Beyonce's shadow former Destiny's Child member...
Days after Beyoncè Knowles announced plans for a perfume line called 'Sasha Fierce' lawyers for clothing retailer Abercrombie &...
Kanye West interrupts her acceptance speech during the MTV Video Music Awards (9.13.09). Rapper/producer Kanye West again showed the...
Ryan Tedder Ryan Tedder, who produced the music for Beyoncè's hit single 'Halo', is taking shots at Kelly Clarkson...
Kelly Clarkson Kelly Clarkson has lost a battle of wills against her record label in her bid to keep...
Singer Beyoncè Knowles will make her cartoon debut when she appears as an animated character later this month on...
A couple of years ago Scott Storch was considered one of the top music producers around, along with a...
Nick Cannon, in a bold display of emotion proposes to Victoria Secrets Model Selita Ebanks Mariah Carey. Fresh off...