Disney owns Pixar. Disney also owns Marvel. With the string of hit animated films from Pixar, and Marvel's 'The...
Rumors of a pending cancellation of Marvel's popular animated series "Avengers: Earth Mightiest Heroes", which airs on the Disney...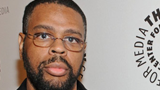 Veteran animation producer Dwayne McDuffie died on Monday in Burbank, Calif., from post-op complications of an emergency heart procedure....
Jon Favreau along with it's star, Robert Downey Jr., have officially signed on to the "Avengers" film, with Favreau...