Pop music legend Michael Jackson collapsed at his Los Angeles, California home around noon Pacific time today (June 25)...
According to Ian Halperin, Michael Jackson's biographer, the King of Pop is suffering from a number of potentially fatal...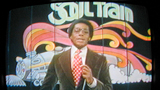 Don Cornelius, the founder and former host of Soul Train, was arrested on suspicion of domestic violence on Friday...
The LA Times reports that Michael Jackson successfully stopped the foreclosure sale of his Neverland Ranch. Neverland Ranch. The...