Nikki Minaj's halter top just wouldn't cooperate when she appeared on Good Morning America this morning. While preforming live...
Jennifer Lopez became the latest victim of wardrobe malfunction after her dress blew open during an appearance on the...
Lady Gaga got extra attention while attending the CFDA fashion awards in NYC on June 6, 2011, as her...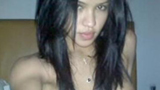 Cassie is the latest celebrity (sic?) to have her goodies flashed all over the internet. Earlier this week pictures...