A Louisiana jury on Friday acquitted rapper Torence Hatch, better known as Lil Boosie of murder in the 2009...
The tail of William Balfour, who stood accused of killing 3 family members of singer/actress Jennifer Hudson, has ended...
Singer/actress Jennifer Hudson and her sister Julia took to the stand yesterday to testify against William Balfour, their former...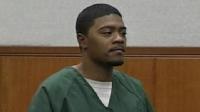 Jury selection begins in the trial of the man accused of paralyzing former Jacksonville Jaguars offensive lineman Richard Collier.
Former rapper-turned-professional prisoner Corey 'C-Murder' Miller has come to an understanding with prosecutors in his attempted murder case. On...
Arizona judge Mark Wayne Reeves on Friday granted a request by Lil Wayne's attorney to keep cameras...
Jason Williams' storybook life continues to spiral out of control as the once admired basketball star is now on...
Snoop Dogg is a defendant in a civil trial that began on Friday (Apr. 24) in which he is...
The attorney representing C-Murder, Corey Miller, in his upcoming murder retrial is quitting the case amid charges that the...
Rapper star T.I. was sentenced in a federal court in Atlanta to a year in federal prison on Friday....
R. Kelly. Thing took a turn for the worst for R. Kelly and his defense team on the second...