Mark Wahlberg. Photo: Lessio Actor/producer Mark Wahlberg was rushed to Massachusetts General Hospital on Friday (Aug 14) after inhaling...
"Dark Knight" star Christian Bale lost his cool during filming of "Terminator Salvation" after a crew member walked on...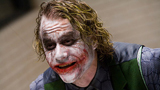 Christian Bale surrendered to London police today after his mother and sister filed assault charges against him for an...
In what's turning out to be unprecedented in Holly Wood history, the Christopher Nolan directed Batman sequel, Dark Knight,...