Gospel star Marie Knight died of complications from pneumonia in a Harlem nursing home in New York on Sunday...
Fall Out Boy Partick Stomp. Photo: Getty Fall Out Boy band member Patrick Stump was picked up by the...
Singer Chris Brown in an L.A. court (Aug. 25) for sentencing for February assualt on girlfriend Rihanna. The assault...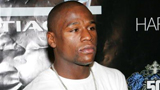 Police searched the home of boxer Floyd Mayweather following a shooting at a Vegas skating rink. It's believed a...
Lindsay Lohan got a shock when she entered her home yesterday morning (Aug. 23) to discover her Hollywood Hills...
Shaquille O'Neal at a press conference for his new TV show, Shaq Vs. Author Todd Gallagher is demanding justice...
Professional wrestler Kurt Angle was arrested in the parking lot of a supermarket in n Robinson, Pennsylvania on Saturday...