In one of the most unexpected plot twists of 2020, Niecy Nash shocks fans with unannounced wedding
To the shock of many, actress/comedian Niecy Nash announced she had gotten married, posting a picture of herself in a wedding dress. The unexpected announcement was followed by more surprising news as Nash jumped out of the closet, revealing her new husband is a woman.
Nash posted a photo from the wedding, captioning it:
Mrs. Carol Denise Betts 💍@jessicabettsmusic
#LoveWins🌈 📸 @robertector (Carol is Nash's real name)
Mrs. Carol Denise Betts 💍 @jessicabettsmusic #LoveWins🌈 📸 @robertector pic.twitter.com/aPsx03PvtT

— Niecy Nash (@NiecyNash) August 31, 2020
To say NOBODY saw this coming would be an understatement. Nash's marriage to singer Jessica Betts is her third. She divorced her second husband, Jay Tucker, just last year.
Nash and Tucker were married for eight years, and for most of those eight years, Nash happily sang her then husband's praises – even writing a book in 2013 about her secrets to a happy marriage, "It's Hard to Fight Naked."
Before Tucker, Nash was married to Don Nash for 13 years, from 1994-2007.
Nash and Betts built a friendship that blossomed into a relationship after Betts guest-starred on Nash's show Claws.
Coaching legend John Thompson passed away at the age of 78
John Thompson, was the first African-American coach to win an NCAA basketball title, coaching the likes of future basketball stars Patrick Ewing, Allen Iverson, and Alonzo Mourning at Georgetown University.
A statement from his family praised Thompson as "devoted" to his players' success on and off the court:
"Our father was an inspiration to many and devoted his life to developing young people not simply on but, most importantly, off the basketball court. He is revered as a historic shepherd of the sport, dedicated to the welfare of his community above all else. However, for us, his greatest legacy remains as a father, grandfather, uncle, and friend. More than a coach, he was our foundation. More than a legend, he was the voice in our ear everyday."
Thompson's impact on the sport of basketball goes beyond winning games. He was one of the first coaches in college sports, of any race, to speak out on racial inequity in sports and society in general.
Thompson once walked off the court to protest an NCAA rule he felt like hurt minority players.
Thompson quipped before he was inducted into the basketball hall of fame in 1999, "I'll probably be remembered for all the things that kept me out of the Hall of Fame, ironically, more than for the things that got me into it."
Iverson, who Thompson had a tremendous impact on as a young, troubled player, thanked the coach for saving his life in an Instagram post.
"Thanks For Saving My Life Coach. I'm going to miss you, but I'm sure that you are looking down on us with a big smile. I would give anything just for one more phone call from you only to hear you say, "Hey MF", then we would talk about everything except basketball. May you always Rest in Paradise, where there is no pain or suffering. I will always see your face in my mind, hoping that I made you proud. "Your Prodigal Son". #Hoya4Life
The post echoed Iverson's speech at his 2016 Hall of Fame induction where he credited Thompson for his success, "I'd like to thank Coach Thompson. For saving my life. For giving me the opportunity."
Cue Ice Cube's "Check Yo Self", after R. Kelly suffers beat down in jail
R. Kelly, who has been held without bail at the Metropolitan Correctional Center in Chicago awaiting trial on sexual assaulted charges, almost lost his life last Wednesday after being attacked by a fellow inmate.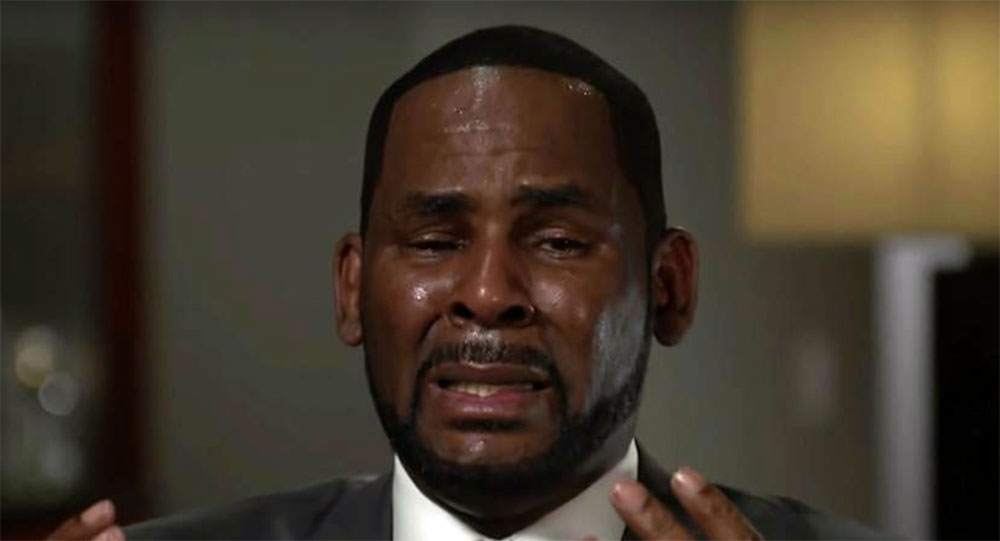 Trouble started after the jail went into lockdown because of continued protests by Kelly's supporters. Unhappy with the attention brought on the protests, the inmate, Jeremiah Shane Farmer physically attacked Kelly in his cell; attempting to stab the "Ignition" signer before guards broke up the ruckus.
According to his attorney, Steven Greenberg , Kelly didn't suffer any serious injuries. He had been placed in general population, but was transferred to solitary confinement for his own protection. The move will likely be permanent for the duration of his stay at the jail.
The Rock beats COVID-19
Dwayne "The Rock" Johnson revealed that he, his wife Lauren, and their two small daughters— ages 4 and 2, all had the conronavirus. Fortunately for them, they all recovered.
"I could tell you that this has been one of the most challenging and difficult things we have ever had to endure as a family, and for me, too, personally as well," the star said in a statement, "And I've gone through some doozies in the past."
"Testing positive for COVID-19 is much different than overcoming nasty injuries, or being evicted, or even being broke, which I have been more than a few times," Johnson said. "[That's] because my No.1 priority is to always protect my family. And protect my children, my loved ones."
Johnson said his children didn't have bad symptoms and were able to bounce back to normal. Johnson credited healthy living for pushing him past the worst of the virus.
According to Johnson he and his family contracted Covid-19 from a family gathering. He cautioned that just because you love and trust people, doesn't mean they can't unknowingly expose you to the virus.