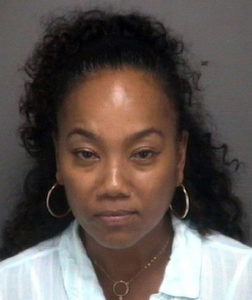 Sonja Sohn who stars as Laverne Johnson on the Showtime series, The Chi, was arrested at 2:00 AM on Sunday morning (man, just when the party was about to get started) in Manteo, North Carolina and charged with possession of cocaine, marijuana, and drug paraphernalia. She was also charged with She was also ticketed for driving with a revoked license and an expired registration.
Sohn was busted during a traffic stop when a K-9 unit detected drugs in her car. Cops found the drugs in her purse. Allegedly.
The 55-year-old actress quickly bailed out of jail after posting $1,500 bail. She's expected in court on Tuesday for arraignment.
Sohn has had a number of popular roles, including playing Detective Kima Greggs on HBO's hugely popular series, The Wire. On The Chi, Sohn's character is the mother of Brandon Johnson, played by Jason Mitchell, who's dealing with his own troubles after being fired from the show for alleged misconduct.
Sohn faces misdemeanors charges for the marijuana and paraphernalia, but is in for a felony for the cocaine.