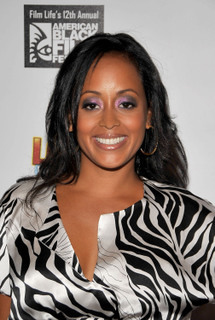 Essence Atkins at the August 8, 2008 premiere of Love For Sale at the Mann Theaters-Beverly Center in Los Angeles, CA. (Photo by John M. Heller/Getty Images)
Actress Essence Atkins is somewhere enjoying her honeymoon after getting married over the weekend to her boyfriend of two years.
The ceremony took place in Pasadena, California on Saturday before friends and family, including Atkins' former "Half and Half" co-star Valerie Pettiford, who also performed a musical piece for guests at the reception.
Atkins, 37, and her new husband, Jaime Mendez met through the online dating site Match.com, "I wrote him a quick little note that I had read his profile, and then I signed off, Happy SAD Day – that's Single Awareness Day."
TV One's chef G. Garvin provided catered the event, preparing a mix of soul food and Puerto Rican dishes, while match books and candles where given away to guests, as well as six-month memberships to Match.com for those who came without a mate.