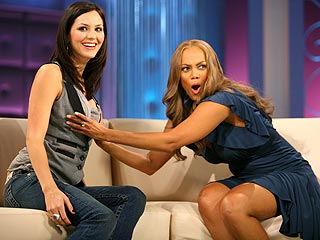 Above: Trya Banks gets touchy-feely with actress Katherine McPhee during an appearance on The Tyra Banks Show.
From The Atlanta Journal-Constitution:
A McDonough, Georgia woman has sued television personality Tyra Banks, claiming the former supermodel featured her then-15-year-old daughter — without parental consent — on a 2009 show about sex addiction.
Beverly McClendon, a licensed social worker, according to public records, said her daughter answered an open call placed on Banks' website last October. The show's producers contacted the girl and invited her to appear as a guest, the complaint, obtained by Reuters, alleges.
A month later, the teen allegedly flew unaccompanied to New York, where she was put up in a hotel in advance of her paid appearance on "Tyra," which ceased production in May. McClendon said she had no idea about her daughter's television debut until it was too late.
"This show was undoubtedly watched by sexual deviants, perverts and pedophiles alike," McClendon contends in the suit, filed in federal court last week. She's seeking $3 million in damages from Banks, her producers and Warner Bros. Entertainment.
McClendon's complaint asserts the teen's right to privacy was violated. She seeks an injunction against any future airings of the program, which still appears in repeats on the CW network.
Attempts to reach McClendon Saturday were unsuccessful.
by: By Christian Boone