Breaking-up is hard to do, but alleged break-ups are even worse. When Havoc of Mobb Deep went off the deep end calling out long time partner in rhyme Prodigy via Twitter it lead legions of fans questioning their allegiance to the Queens duo. Hours after the threats of exposure and allegations about P's extra curricular activities during his time in prison, Havoc's publicist released a statement claiming that someone had logged on to Havoc's Twitter account using his cell phone which he lost at a gas station (various websites reported that those tweets came from a computer rather than phone so who knows), but as this story develops and everyone who isn't a Mobb Deep fan struggles to care, We here at Phresh examine a few actual Hip Hop breakups.
Cormega vs. The Firm
You'd think having friends in high places would be a good thing, and for a while it was for Cormega. Mega generated some serious buzz in the early 90's which he quickly wasted by getting locked up for non record promotional reasons. Mega came home around the time Nas was on top of the world and Nasir, who wanted to push Cormega, introduced him to AZ. After a cypher between the 3 of them, and a then hot Foxy Brown, they decided to form a collective known as The Firm. To hear Cormega tell it "at the end of the day money and friendship are two different things," add Steve Stoute to the equation and friendly agreements turned towards ultimatums. Stoute, who was Nas' manager at the time, insisted that Mega signed papers agreeing to a production deal. Mega refused and he was eventually bounced from The Firm and replaced with Nature. Unfortunitly, members of the The Firm didn't realize at the time that Nature had saved a whole careers worth of lyrical ability for his verse on Noreaga's 'Banned From TV' and had nothing to contribute to The Firm project leaving us with the track 'Affirmative Action' to show a glimpse of what a Firm album with Cormega might have looked like.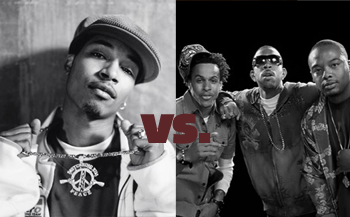 Chingy vs. DTP
If the Chingy and DTP situation was a question on Jeopardy it would look something like this. Answer: A one-hit wonder who got too big for his britches and decided to slander his management and label simultaneously during an interview. Question? What is a Chingy. Yes Chingy felt that he was being held back by then label Disturbing The Peace and felt that not only were they holding him back, but they were playing with his money. After all he sold 3 million records and felt he had some bargaining power (even though he was outsold by the Lizzie Maguire official sound track). Ludacris responded in an interview saying 'All respect' was lost for Chingy. They traded a few diss records before Chingy came back to DTP in 2007 to release his 4th album. After selling 30k his first week, Chingy and DTP parted ways for good.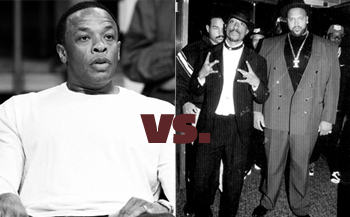 Dr. Dre vs. Death Row
Back in the days when Suge Knight, one of the founding members of Death Row, was fabled to have white rappers held by their ankles over hotel balconies in extortion bids, another founding member, who doubled as the driving force behind Death Row's sound, was Dr. Dre. Dre, who left another toxic label situation with Ruthless to start Death Row, took more of a behind the scenes role as Suge Knight's legend grew. The office beatdowns, sometimes of their own artists for featuring too many east coast rappers in a video, and loss of control resulted in Dr. Dre leaving Death Row to form Aftermath and we all know how that turned out. Dr. Dre signed Eminem and Suge Knight was knocked out by a barber and sometime later by some random passerby, both times documented with photos. Now we all watch as the once highly anticipated Detox is met with highly indifferent reactions to its ever shifting release date.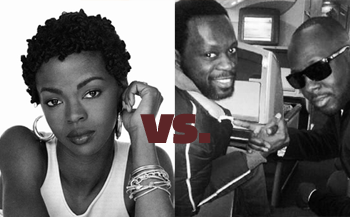 The Fugees
With millions of records sold, a few hit singles and a stand out talent in Lauryn Hill, The Fugees seemed destined for a long and successful run. So what do you do when your group shifts paradigms and changes the landscape of music in that era… embark on 3 solo careers obviously. Those solo projects resulted in Pras doing a song with Mya and ODB and a few other things absolutely no one cared about, Wyclef doing songs with everyone from The Rock to Shakira then eventually running for President of Haiti, receiving death threats and having no one follow through on aforementioned threats and Lauryn Hill dropping one of the best albums of the decade in 'The Miseducation of Lauryn Hill'. Afterwards becoming an eccentric recluse only occasionally choosing to emerge from hiding to give performances that leave fans wondering what the hell happened. She also spawned a tribe of children.
E vs. PMD
Nothing says a working relationship is over like hiring goons to kick in the door of your partners crib, duct taping and gagging your partners wife and holding her at gun point… allegedly. EPMD might be the prototypical bad break-up, but even with such drama transpiring, Parrish Smith managed to keep it all business until the end. Coupled with the fact that this happened during EPMD's most successful year and even though Parrish had suspicions of who was behind the strong arm move (Eric Sermon was arrested and briefly detained and questioned regarding the incident), he held off breaking up EPMD until all the artists under him including Redman, K-Solo and Das Efx got their video and tour support. Talk about a team player. Some say the rift grew when Parrish got the bigger share of the pie over Erick Sermon and some of the artists under Parrish complained that he had his hands in every ones pocket. To hear Parrish tell it in interviews that followed, he did all the busy work of planning tours and dealing with the legality of various situations so any extra dough he saw was justified. Let this serve as a lesson, stay involved in your paperwork and know what you're signing… otherwise you might have to kick in someone's door wavin' the 44.