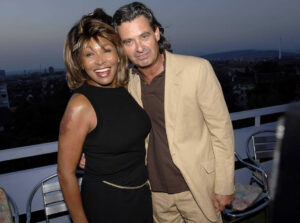 We're all familiar with the film,
What's Love Got To Do With It
, the 1993 film adaptation of Tina Turner's bestselling book,
I, Tina
. The book (and movie) chronically Turner's life, brutal marriage to
Ike Turner
, and her rise to stardom.
But in her latest memoir titled Happiness Becomes You: A Guide to Changing Your Life for Good, Turner speaks on Turner finding the love of her life, Erwin Bach, and what keeps her going at the age of 81.
This book is a rare look into Turner's life since she retired from touring years ago, and her 7-year marriage to Erwin Bach, whom Turner said the two met at an airport in Germany in the mid-'80s.
She writes "Falling in love with my husband, Erwin, was another exercise in leaving my comfort zone, of being open to the unexpected gifts that life has to offer. The day I first met Erwin, at an airport in Germany, I should have been too tired from my flight, too preoccupied with thoughts of my concert tour, and in too much of a hurry to get to my hotel to pay much attention to the young music executive who came from my record company to welcome me."
"But I did notice him, and I instantly felt an emotional connection," she continues. "Even then, I could have ignored what I felt — I could have listened to the ghost voices in my head telling me that I didn't look good that day, or that I shouldn't be thinking about romance because it never ends well. Instead, I listened to my heart. I left my comfort zone and made it a priority to get to know Erwin. That simple first meeting led to a long, beautiful relationship — and my one true marriage."
One of the things that have kept their nearly 30-year relationship going is that they let each other shine.
"Erwin, who is a force of nature in his own right, has never been the least bit intimidated by my career, my talents, or my fame."
Turner also talks about how Buddhism saved her life and how her husband gave her his kidney when she was very sick just three years ago.