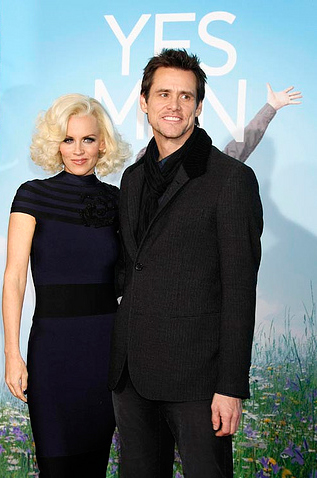 Jenny McCarthy and Jim Carrey at the Los Angeles premiere of of Carrey's film 'Yes Man'. Photo: pascal_turcotte_rocks.
Comedian Jim Carrey and his girlfriend, former Playboy model Jenny McCarthy, have taken their relationship to the next level. The couple, who've been dating since 2005, took part in a commitment ceremony recently.
The National Enquirer quotes a source that said, "The vows basically said that they would 'be forever in love' with one another and that they would always be together. For the two of them, it was as good as a marriage ceremony." After the ceremony the newly committed couple ran off to Vegas for some "kissing," "cuddling," and "Texas hold 'em," according to the source.
If this were an actual wedding it would be Carrey's third. His last marriage, in 1996 to his Dumb & Dumber co-star Lauren Holly, barely lasted a year. He began dating Holly shortly after divorcing his first wife Melissa Womer in 1995.