Marvel recently announced it found a new director for the upcoming
Captain Marvel
sequel.
Nia DaCosta
has been tapped to take over for
Anna Bodn
and
Ryan Fleck
, who co-directed the first film. Making DaCosta the first black woman to helm a Marvel film. Bodn and Fleck had not signed on for the sequel.
Surprisingly, DaCosta is only the second African American to direct a Marvel film Ryan Coogler directed Black Panther.
The announcement comes on the heals of Anthony Mackie had with Daveed Diggs in June as part of Variety's "Actors on Actors" interview series, Mackie, who plays Falcon in the Marvel Cinematic Universe, pointed out why it was racist for Black Panther to have a full complement of black cast and crew in front and behind the camera,
"…I've done seven Marvel movies where every producer, every director, every stunt person, every costume designer, every PA, every single person has been white."
"But then when you do 'Black Panther,' you have a Black director, Black producer, a Black costume designer, a Black stunt choreographer. And I'm like, that's more racist than anything else. Because if you only can hire the Black people for the Black movie, are you saying they're not good enough when you have a mostly white cast?"
Out of the 1,300 top-grossing films over the past 12 years, only 13 were directed by women of color.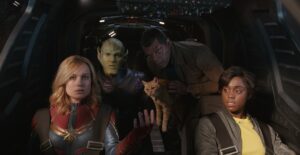 Fox Studios had the largest number of minority women directing films at four percent. Meanwhile, movie studios like Lionsgate and STX had no women of color directing their films.
DaCosta's first feature film was 2018's Little Woods, starring Tessa Thompson (who also plays a prominent character in the MCU). She also directed Jordan Peele's Candyman, which hit theaters in October 2020. The horror remake stars Yahya Abdul-Mateen II who most recently appeared in HBO's Watchmen.
2019's Captain Marvel, which stars Brie Larson in the title role, grossed $1.128 billion at the box office.