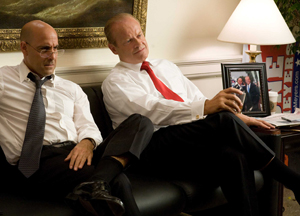 Stanley Tucci (l) and Kelsey Grammer (r) in a scene from 2008's Swing Vote.
A screenwriter who had sued Kelsey Grammer claiming the actor ripped off the idea for the film Sing Vote from him got a bitter sweet victor after a settlement brought an end to the nearly 2-year-old case.
Bradley Blakeman alleged that in 2006 he gave Grammer a copy of a script he had written titled Go November and was shocked to see Grammer appear in 2008's Swing Vote, a film with a plot "extraordinarily similar" to the script have had given Grammer two years earlier.
On March 10 Blakeman agreed to drop the case and was awarded $10.
Grammer's co-star in the film, Kevin Costner, and executives at Disney, who owned the rights, were also named in the lawsuit, but the claims against them were dismissed earlier in the case.