As fans continue to mourn the passing of music icon Michael Jackson, his music lives on.
While he hadn't released new music in years fans have been buy up his past hit in droves since his death, helping cement Michael Jackson's musical legacy. According to Billboard.com Jackson's music now occupies 9 out of the ten 10 Pop music slots, and as Stan Schroeder of Mashable.com reports, Jackson is also making history in the virtual realm. Nielsen SoundScan has been keeping track of digital purchases of the King of Pop's music. Astonishingly there have been 2.6 million downloads of his work in the past week, a new record (the previous record stood at 1 million). And Visible Measures, which tracks online videos from sites like Youtube and Vimeo, reports that Jackson's Thriller music video has been viewed nearly 28 million times since his death last Thursday. Thriller was originally released in December of 1983.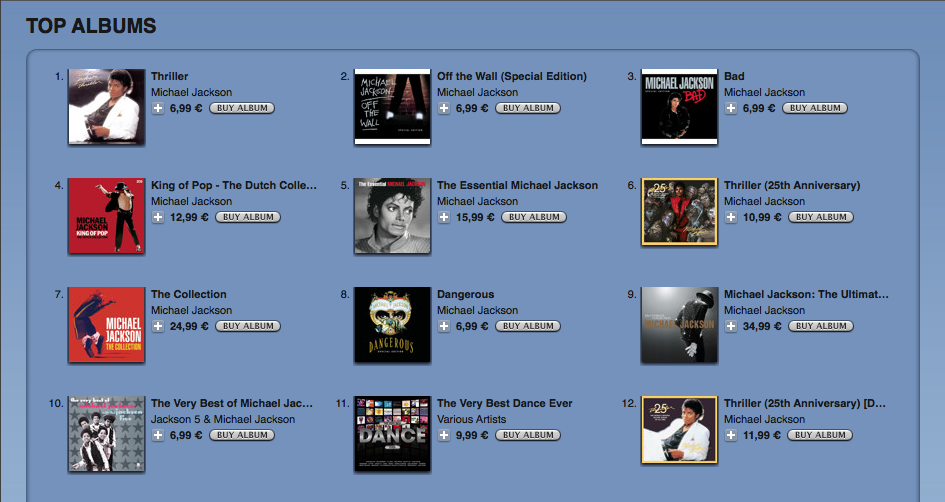 The top 12 of most sold albums on iTunes are currently *all* Michael Jackson albums. Photo/copy: nilicule
Before his death Jackson's greatest hits album "Number Ones" was listed at number 20 on the Billboard 4,000 copies sold. That figure quickly shot up as word of his death circulated. This week "Number Ones" is at number 1 on the charts with 108,000 copies sold (an increase of 2,340%). "Number Ones" is followed closely by "The Essential Michael Jackson" (102,000), "Thriller" (101,000), "Off the Wall" (33,000), at #5 the Jackson 5's "The Ultimate Collection" (18,000), "Bad" (17,000), "Dangerous" (14,000), "Greatest Hits: HIStory – Volume 1" (12,000), "The Ultimate Collection" (11,000).