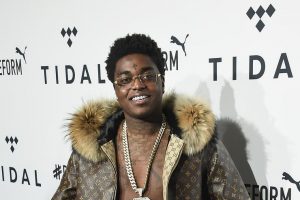 In true fuck-boy fashion, Kodak Black laced up his tennis shoes to clout chase on the heels of the murder of Nipsey Hussle.
The Miami rapper, real name Bill K. Kapri, stomped all over the memory of Nipsey in a lewd Instagram Live post directed at the rappers girlfriend, Lauren London,
Lauren London that's baby, though. She about to be out here single. She's finna be a whole widow out here.

I'll be the best man I can be for her. I'll give her a whole year. She might need a whole year to be crying and shit for [Nipsey]. I ain't trying to shoot [my shot] at her. I'm saying, listen. She can do two, three years. I'll try to be like the friend if you need to holla or a shoulder to lean on. She can call my line.
Trash.
It should be noted the internet was not having this Kodak bullshit. Fans and celebs alike came to Lauren and Nipsey's defense, with The Game responding,
.@thegame put @KodakBlack1k in his place after Kodak said he would move to Lauren London 🤦🏽‍♂️ What an idiot Kodak is 🤦🏽‍♂️ No respect at all 😤 #GotThatHipHop pic.twitter.com/q4nvgdtmex

— OfficialGTHH (@OfficialGTHH) April 7, 2019
Singer Tank had a few choice words on Instagram,
Tank also had a few words for Kodak Black pic.twitter.com/vRzcjvYFXq

— BallerAlert (@balleralert) April 7, 2019
Atlanta rapper T.I. posted:
"Hey, Kodak Black: You outta pocket, n**ga. Fix that sh*t—quickly, expeditiously" Tip said in an Instagram video. "[…] If I see you, I'ma say it to your face. You outta pocket, n**ga. Get your motherf**kin' self together."
Unfazed, Kodak shot back at T.I., "Man, listen: I said what I said. Y'all tryin' to misconstrue what I said […] Fuck that. I don't give fuck what y'all talkin' about," Kodak said. "T.I., man, I don't care. I'm in Georgia right now."
Like I said, trash.
BTW, Kodak was recently charged for he 2016 rap of a South Carolina woman. Surprising, right?
Kodak's Instgram Live comments came less than a week after Nipsey was shot down in front of his L.A. store following a dispute.