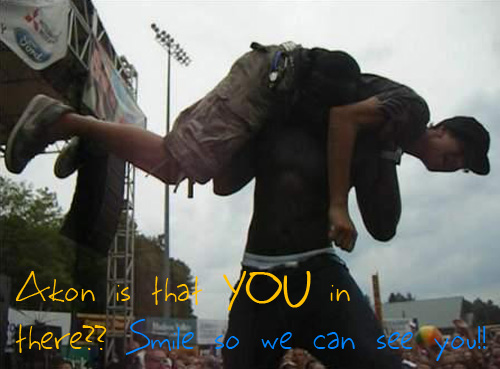 Photo evidence show singer Akon tossing a fan off the stage during a concert in December 2007 in Fishkill, NY
Akon, who's facing charges of misdemeanor endangerment and harassment, got a short break as his case was postponed until September.
In June of 2007 the African born hip-hop signer, born Aliaune Damala Bouga Time Puru Nacka Lu Lu Lu Badara Akon Thiam, threw a fan into the audience at a Fishkill, New York concert.
The fan had thrown a water bottle on stage while Akon was performing. The signer singled out the wayward fan and had his security pull the teen up on stage. Akon lifted the teen above his shoulders and threw him into the crowd where he landed on another teenager, who says she suffer a concussion as a result.
Akon was charged in December 2007 and pled not guilty to charges of endangering the welfare of a minor and second-degree harassment despite the fact that the incident was captured in film and later uploaded to the internet.
Akon faces possible deportation He's due back in court on September 3rd.