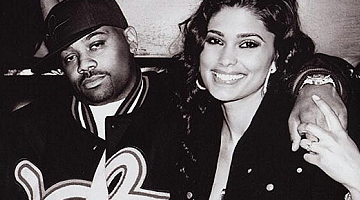 Dame Dash with wife Rachel Roy
The Associated Press reported today that co-founder and former CEO of Roc-A-Fella Records Dame Dash is in the midst of a legal battle to keep his two Manhattan homes.
In papers filed with the court, mortgage holder Eastern Savings Bank says Mr. Dash and his wife, designer Rachel Roy, have fallen behind on monthly payments for the two properties totaling $78,500.
Mr. Dash could not be reached for comment but the news comes just months after he disclosed his wife had signed a lucrative, multi-million dollar deal with Jones Apparel, Inc. to expand her fashion label, the Rachel Roy Collection.
In 2004, after a public separation from longtime business partner Shawn 'Jay-Z' Carter, Mr. Dash sold his stake in Roc-A-Fella Records for $10 million. He later accepted a $30 million dollar buy out of his interests in Rocawear, the clothing line he owned with Mr. Carter and Kareem 'Biggs' Burke.
According to the court papers Mr. Dash owes $7.3 million dollars to the Eastern Savings Bank for the two properties.