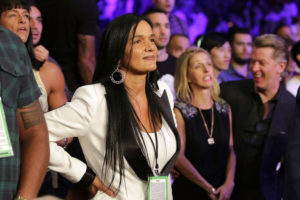 Jay-Z
named
Desiree Perez
the new CEO of Roc Nation in an announcement on Friday. Desiree has been COO of the company since 2009 and will replace
Jay Brown
, making him Vice-Chairman.
Billboard also recently named Ms. Perez "Women In Music Executive of the Year". Atlantic Records COO & co-chairman Julie Greenwald told Billboard "Desiree is one of the most driven women I've ever met… Everyone looks at Roc Nation as synonymous with Jay-Z, but she's really the engine that drives it."
Born in the Bronx to Cuban Immigrants, Desiree says her drive comes from working beside her father at his moving company as a young girl. "My dad was a big influence on me because he came from nothing – it was really gritty." (Billboard interview). She was managing nightclubs and promoting shows when she met Jay-Z. In 2003 she and her husband Juan co-founded the 40/40 Club in Manhattan with him. She served as Director of Operations and helped expand the brand. The Manhattan 40/40 Club and one at Brooklyn's Barclays Center are still open.
Desiree got her start in the music business with Roc Nation. The company started in 2008 with a $150 million dollar joint venture between Live Nation and Jay-Z. Another deal was signed in 2017 for $200 million. The original deal included a 360 deal for Jay's recordings, publishing and tours for 10 years. Desiree left the nightclub scene and came on as COO of Roc. Her husband Juan Perez is head of Roc Sports Nation, the sports management division.