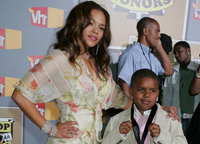 Singer Faith Evans, pictured with her son Christopher Jr., faces possible jail time following a DUI arrest in August.
On Friday (Sept. 3) Los Angeles prosecutors charged singer Faith Evans with two counts of misdemeanor DUI.
The charges steam from a August 21 arrest when the 37-year-old Grammy-winning singer was stopped at a sobriety checkpoint near Marina Del Rey, CA.
She's scheduled to be arraigned on September 16. The charges carry a sentence of up to six months in jail if convicted.