The Geto Boys are banding together one more time for a series of shows after group member, Bushwick Bill revealed he is battling stage 4 cancer. The group will be kicking off "The Beginning of a Long Goodbye" tour later this month.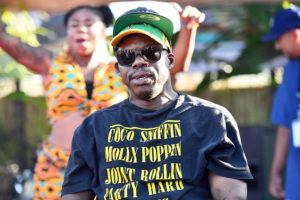 In an interview with TMZ last week Bushwick, real name Richard Stephen Shaw, shared news of his stage 4 pancreatic cancer diagnosis. While he is undergoing chemotherapy treatment, understanding the severity of his diagnosis Bushwick plans to continue working to ensure his children will be provided for after his death. Along with the tour, Bushwick will be recording music in support of his goal.
The Geto Boys have so far listed the following dates:
May 24 – The Crofoot @ Pontiac, MI,
May 25 – Agora Theatre @ Cleveland, OH
May 29 – Howard Theatre @ Washington, DC
May 30 – Sony Hall @ New York, NY
It's unclear how Bushwick's ongoing chemotherapy treatment may impact additional dates.
Formed in the late 80s, the Geto Boys (Scarface, Bushwick Bill, Willie D) were pivotal to the Houston hip-hop scene, and paved the way for many southern rap rap acts. Their 1991 album, We Can't Be Stopped, featuring the single, "Mind Playing Tricks On Me", is a hip-hop classic. Group members would eventually go on to release solo projects, but the Geto Boys remain a hip-hop stale.
Tickets to the tour are currently on sale.