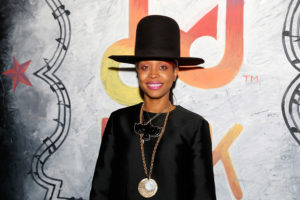 I suppose you can now say
Gwenyth Paltrow
has started a new craze with her vaginal scented candle. The Avengers actress debuted the "This Smells Like My Vagina" candle on her store, Goop, in late December and it quickly sold out. The unexpectedly popularity of the fragrance caught the attention of music legend
Erykah Badu
, who's now planning her own line of vaginally-scented incenses.
The aim of Paltrow's fragrance was not to actually mimic her own genital scent, but to simply smell like a vagina. Whereas Badu wants her genital essence to be replicated exactly.
In an interview with 10 Magazine the 48 year old, who plans to call the line of incense, Badu's P*ssy, spoke about the scent gathering process, "There's an urban legend that my pussy changes men. The men that I fall in love with, and fall in love with me, change jobs and lives. I took lots of pairs of my panties, cut them up into little pieces and burned them. Even the ash is part of it."
She went on to say she doesn't mind destroying pairs of her underwear because she longer wears underwear on a regular basis.
Badu's P*ssy incense will be available for purchase on her online store, Badu World Market Store later this month.
Will you be trying to purchase a coveted 'life-changing' fragrance?