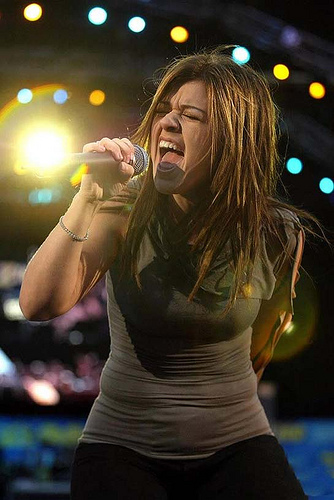 Kelly Clarkson
Kelly Clarkson has lost a battle of wills against her record label in her bid to keep 'Already Gone' from being release as the third single to her latest album All I Ever Wanted.
Clarkson's beef? The song features the same track as the song 'Halo' which appears on signer Beyoncè's album I Am… Sasha Fierce and spent weeks on Billboard's Hot 100 charts earlier this year.
The trouble began when producer Ryan Tedder gave Clarkson the track to use on her album, neglecting to mention he had given the same track to Beyoncè. When Clarkson figured out what happened she scrambled to pull the track from the album but it had already shipped to retailers.
From the New York Post:

"No one's gonna be sittin' at home, thinking 'Man, Ryan Tedder gave Beyoncé and Kelly the same track to write to.' No, they're just gonna be saying I ripped someone off…

"I fought and fought [but] in the end, they're releasing it without my consent. It sucks, but it's one of those things I have no control over. I already made my album. At this point, the record company can do whatever they want with it. It's kind of a shitty situation, but . . . you know, you learn."