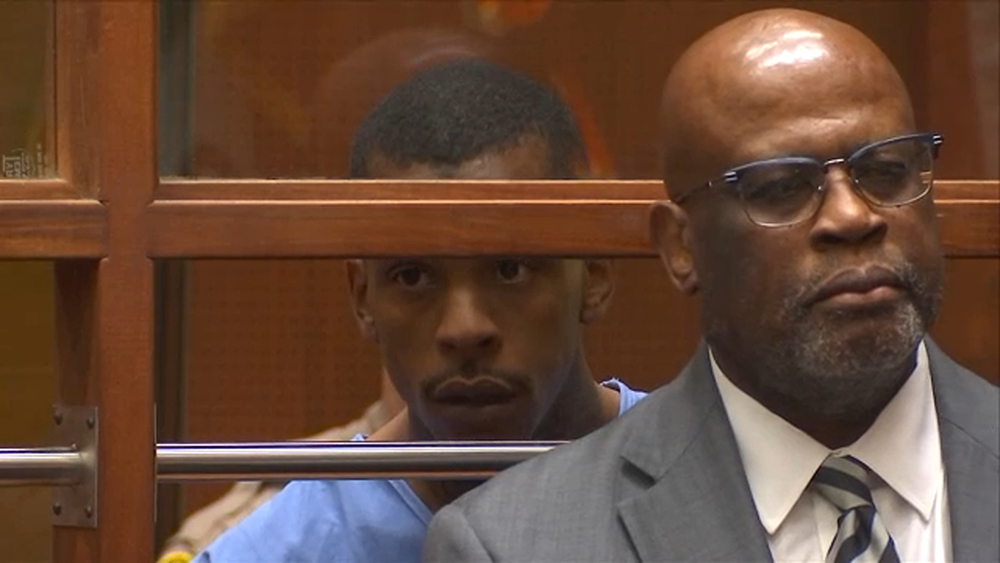 Murder suspects don't usually want to speak to the media. But Eric Holder is a different type of special.
Holder has been in police custody since his April arrest for shooting and killing Nipsey Hussle outside Hussle's Marathon clothing store. And other than a court hearing shortly after his capture, we haven't heard much from or about him.
Terrell Foster, host of the Real Whirl Podcast posted a two-minute video to Youtube of a conversation with Holder from behind bars. In the video, Foster tells the suspected killer "there's two sides to every story" in hopes of getting Holder to open up about the murder. While Holder did not take the bait, he did promise Foster a full interview after his trial has ended.
In the clip, Foster can be heard telling Holder, "There's two sides to every story…I wanted to reach out to you 'cause ain't nobody reaching out to you to get your side of the Nipsey Hussle thing. Everybody is…how can I say it? They got you pegged as this murderous thug individual and don't nobody but the actual people who was there know what happened. I just wanted to tell your side of the truth of all of this. That's all this is."
Holder tells Foster in response, "I'ma keep your number and I'ma call you after this. I'm finna go to trial so after the trial when I find out everything, I'ma hit you up and holler at you fo' sho', bro."
Holder has a scheduled court hearing on March 18 ahead of his trial. His case has had some setbacks, including his attorney, Christopher Darden, recusing himself because death threats. Darden, famous for prosecuting O.J. Simpson for the murder of his ex-wife, Nicole Brown Simpson and her friend, Ron Goldman, described himself as "battle-tested" before quitting the case, "It's 1995 all over again, except this time, some folks are upset that I should represent a probable mentally ill African American man charged with murder. I received threats. My family…my children have been harassed and threatened. It's really outrageous. I'm really kind of sick of it. I don't know when people are gonna realize I'm already battle-tested."
Meanwhile Foster himself has gotten pushback from fans for even speaking with Holder. In response Foster contends his interest is only in the story, not sensationalizing Nipsey's death, "[Holder] reached out to me… he wanna tell his side of the truth. He wanna tell you exactly what happened the [sp] day with Mr. Nipsey Hussle. R.I.P. to Nipsey Hussle. God rest Nipsey Hussle's soul. I never did a video related to Nipsey Hussle… A lot of YouTubers ate it up. They took [Nipsey's murder] and ran with it. People didn't even know who the hell Nipsey Hussle was until after he got killed.
"Nipsey Hussle was a damn good artist. I hate that he didn't get a chance to enjoy his accolades while he was here."