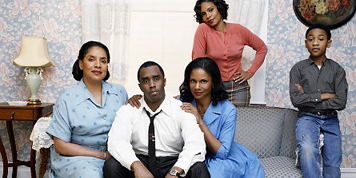 Sean Combs, pictured above, center, with the cast of the Broadway play-turned-tv-movie A Raisin in the Sun .
Sean 'P. Diddy' Combs flew solo on a commercial flight to the Cannes film festival in France because he wanted to prove he's a serious actor.
The music mogul-turner-actor is hoping his low-key appearance will help him score a leading film role. "As an actor, a lot of directors and producers they don't want to deal with my entourage so I'm flying by myself. I'm a movie star in the making."
Mr. Combs sat for much of the flight with a blanket over his head so other passengers wouldn't recognize him.
But after arriving at Cannes he quickly reverted to his old routine with a massive luxury yacht, which was anchored just offshore.