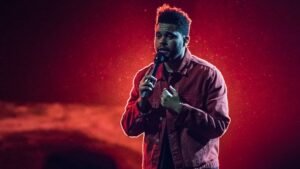 The Grammy nominations were recently announced and one name that wasn't on the nomination list was The Weeknd and trust and believe, this didn't go unnoticed by him nor his fans.
The Weeknd, also known as Abel Tesfaye, clearly thought he deserved a Grammy nod.
"The Grammys remain corrupt," the "Blinding Lights" singer tweeted last Tuesday, "You owe me, my fans and the industry transparency."
The Grammys remain corrupt. You owe me, my fans and the industry transparency…

— The Weeknd (@theweeknd) November 25, 2020
He's not the only one who felt that way, several other artists including Drake and Elton John also spoke up for the Candian singer.
Drake even said he thought maybe the Grammys are out of touch.
"I think we should stop allowing ourselves to be shocked every year by the disconnect between impactful music and these awards and just accept that what once was the highest form of recognition may no longer matter to the artists that exist now and the ones that come after," the rapper said.
"It's like a relative you keep expecting to fix up but they just can't change their ways."
Elton John said this on his Instagram page "In my humble opinion……Blinding Lights, Song of the Year 🙌 Record of the Year 🙌,
This is not the first time the Grammys have been met with controversy. Many in the industry were upset when Beyonce's "Lemonade" album was beaten out by singer Adele that year.
Although, the singer was gracious and humbled in her acceptance speech and praised Beyonce for her work and contribution to the industry.
And recently, Kanye West also criticized the Grammys too and showed his displeasure by urinating on one of his Grammys.
It will be interesting to see however if any of these artists will boycott the Grammys in the future.