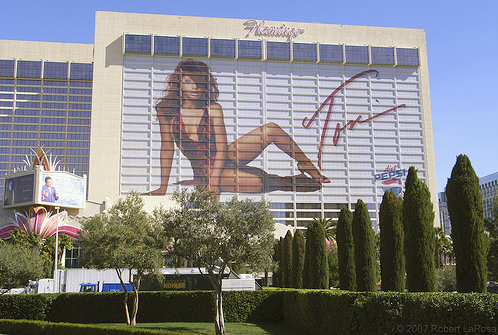 An image of Toni Braxton graces the Flamingo Casino in Las Vegas in this 2007 photo. Credit: Robert LaRosa
Another day, another lawsuit. Singer Toni Braxton is at the tail end of the latest in the ever-growing line of celebrity lawsuits.
City National Bank, otherwise known as CNB, filed suit against Braxton after the singer defaulted on a $900,000 loan.
Braxton took out the nearly million-dollar loan in November 2007 with the stipulation that it would be paid back by February 2008, but she encountered financial trouble that made it difficult for her to meet that obligation. She was able to renegotiate the terms of the loan, agreeing to make payments in installments, but fell behind on those payments as of April 2009.
CNB's suit is seeking to recoup $657,500, the balance remaining on the loan, plus $44,000 in interest.
Braxton is also facing a lawsuit from her insurance company, Lloyd's of London. The lawsuit, or rather countersuit, was filed after Braxton sued Lloyd's, which was the insurance provider for her Las Vegas show back in 2006, over the cancellation of the Vegas shows because of a heart ailment she suffered.
In the Lloyd's lawsuit the company claims it shouldn't have to pay out to Braxton because the singer neglected to inform them of any "pericarditis condition" on her insurance application.