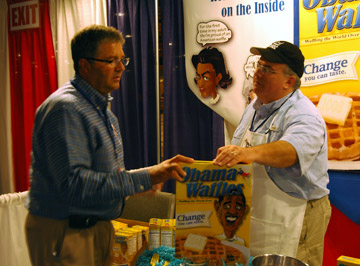 Mark Whitlock and Bob DeMoss sell boxes of "Obama Waffles" at the Family Research Council's summit in Washington
Family Research Council, the Christian conservative political group, is catching flack as news surfaces of a racially sensitive incident at the group's Value Voters Summit in Washington this past Saturday (Sept 13) where Mark Whitlock and Bob DeMoss purchased a booth to sell boxes of "Obama Waffles".
Whitlock and DeMoss, who ironically are Christian pastors, set up shop selling the $10-a-box waffle mix that depicted presidential nominee Sen. Barack Obama and his wife in what many see as racist caricatures.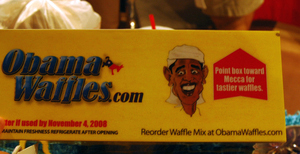 The yellow box feature a drawing of Sen. Obama with exatuated features smiling at a stack of waffles, along with other, more offensive, artwork:
• An image on the flap depicting Obama in a Muslim headdress with the copy
"Point box toward Mecca for tastier waffles."

• A caricature of Rev. Jeremiah Wright as a missing person on the side of the box, with copy,
"Popular sayings: 'God d*** America' and Made in the US of KKA."

• The recipe for "Barack Belgium Beauties" reads,
"Environmentally conscious consumers should pay two ozone-offset carbon credits to Al Gore's GreenWorld fund."

• A caricature of Michelle Obama saying,
"For the first time in my adult life I'm proud of an American waffle."

• A rap song, "Barry's Bling Bling Waffle Ring recipe rap"

"Yo, B-rock here droppin' waffle knowledge
Spellin' it out, 'cause I graduated college
Some say I waffle so fast, Barry's causin' whiplash
Just doin' my part, made wafflin' a fine art
For a waffle wit style, like Chicago's Magnificent Mile
Spray whipped cream around the edge
Shake it first like Sister Sledge
Then say wit me, I can be as waffly as I wanna be!
(That goes out to my Ludacris posse)"

• A caricature of Obama in a sombrero promoting "Open Border Fiesta Waffles", the caption reads:
"The greatest danger of all is to allow walls to divide us. It's time we opened our borders and our wallets to all who desire a taste of reedom. So put out the welcom mat and enjoy this multicultural celebration. While waiting for these zesty treats to invade your home, why not learn a foreign language? Recommended serving: 4 or more illegal aliens"
Speaking to a reporter, DeMoss stated, "I understand that it's not for everyone. But we don't have a racist bone in our bodies. This is humor, not hate."
Business at the booth, at this "Christian" event, was brisk, with DeMoss and Whitlock saying they sold more than 400 boxes before being shut down by event organizers. Even CNN's Lou Dobbs got in line for the racially charged waffles.
Sen. Obama's campaign has declined to comment.
source: Jesus21.com, ChristianityToday.com