Right out of the gate, from its
Hunger Games
feel to the drug addled, glassy-eyed, appearance of some speakers, the Republican National Convention was off to a weird start on Monday.
Republican Senator Tim Scott of South Carolina, Democratic Georgia representative Vernon Jones, and former NFL running back Herschel Walker were trot out in a display of the party's outreach to Black America.
Walker's role was to explain to black voters why he supports Trump, and why he doesn't think Trump is a racist, though if you're a politician who needs someone to specifically point out that you really aren't a racist, at your nomination event, you may have already passed the point where damage can be undone.
"Just because someone loves and respects the flag, our national anthem, and our country doesn't mean they don't care about social justice," Walker said on Monday.
"I care about all of those things, and so does Donald Trump. He shows how much he cares about social justice and the Black community through his actions. And his actions speak louder than any stickers or slogans on a jersey."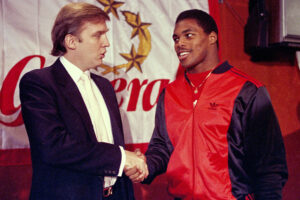 Walker, who developed a relationship with Trump in the 1980s while playing for Trump's USFL team, the New Jersey Generals, didn't go into detail about the actions that Trump has taken on behalf of black people, or what his agenda for a second term would include. But he did insist President Trump was not a racist, "I take it as a personal insult that people think I would have a 37-year friendship with a racist."
"People who think that don't know what they're talking about.. Growing up in the Deep South I've seen racism up close. I know what it is, and it isn't Donald Trump."
And though he had a successful career in the NFL, Walker doesn't see much common ground with today's athletes, at least not when it comes to politics. Walker has been vocal about his opposition to Colin Kaepernick's anthem protests against police brutality, and the Black Lives Matter movement, which in itself is enough to be considered a star in today's Republican party.