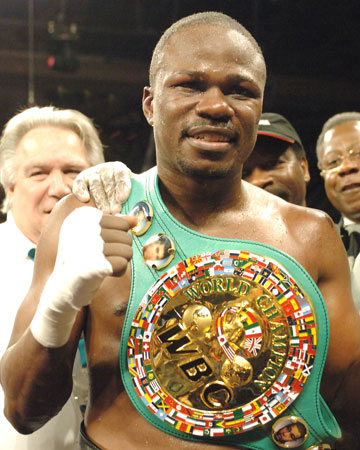 Former WBC World Champion Vernon Forrest
The Sports world suffered another loss on Saturday (July 25) when veteran boxer Vernon "The Viper" Forrest was gunned down at a gas station in Atlanta.
According to police, Forrest was getting ready to put air in the tires of his Jaguar at a Chevron gas station on Whitehall Street in Southwest Atlanta around 11 p.m. Saturday night when he was approached by a man armed with a handgun.
According to witnesses, at some point after being stripped of a few personal items by the perpetrator Forrest, who was also armed, gave chase, cornering the suspect near McDaniel and Fulton Streets. For reasons as yet unknown, after confronting the suspect Forrest turned to leave and was shot 7 to 8 times in the back.
According to the Atlanta Journal Constitution the 11-year-old son of Forrest's girlfriend, who was inside the Chevron at the time of the robbery, was able to give police a description of the suspect, though he did not witness the shooting.
Police are still searching for Forrest's killer as well as another man believed to be his accomplice who was seen driving off in a red Monte Carlo.
Vernon Forrest was 38-years-old.