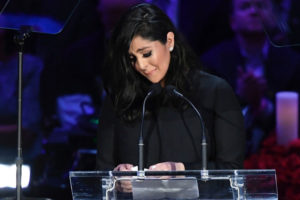 Still reeling from the loss of husband,
Kobe
and daughter, Gianna, L.A. County sheriff's deputies just served up a fresh helping of heartache on to
Vanessa Bryant
already full plate.
According to the L.A. Times, sheriff's deputies were trying to sell Kobe's death scene pictures to media outlets. Bryant's attorney, Gary C. Robb, requested an internal affairs investigation, and the "harshest possible discipline" for those responsible after it was revealed that first responders to the January 26 helicopter crash took unauthorized photos of the disaster, later sharing them with other county employees. Nine people died in the accident.
Calling the unprofessional behavior "inexcusable and deplorable", Robb said the actions of the deputies were "an unspeakable violation of human decency, respect, and of the privacy rights of the victims and their families."
After she was notified of the accident, Vanessa Bryant asked for a no-fly zone so ghouls couldn't take pictures of the death scene. "At that time, Sheriff Alex Villanueva assured us all measures would be put in place to protect the families' privacy, and it is our understanding that he has worked hard to honor those requests," Robb said.
Robb has demanded that the deputies be involved be identified "to ensure that the photos are not further disseminated."
Reports are that Vanessa Bryant is "absolutely devastated" by this scandal and may pursue legal action.