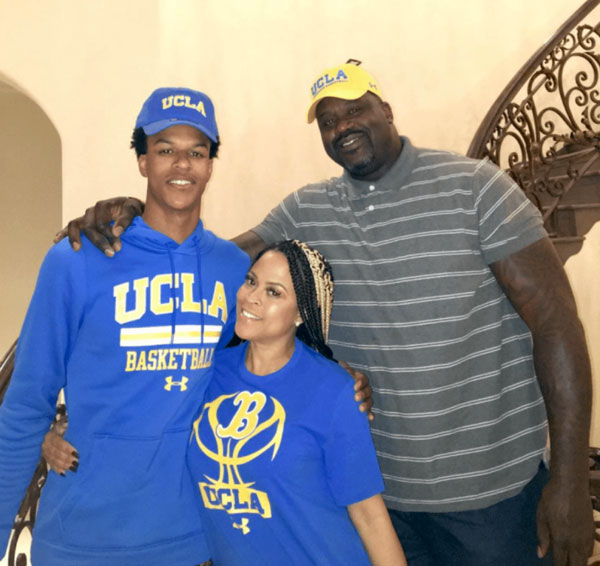 Shareef O'Neal
, son of NBA Hall of Fame center and [minnosh_ext_tooltip title="Shaq has had a very successful post-NBA career as spokesman for companies including: Ring doorbell, Icy Hot pain-relief patch, The General Automobile Insurance, Carnival Cruise, and VitaminWater." position="top" behavior="hover" class="tooltip" color="#fff" background-color="#d33a2c"]legendary product pitchman[/minnosh_ext_tooltip],
Shaquille O'Neal
, announced he will be leaving the UCLA's basketball program.
Shareef, who missed the entire 2018-2019 season after undergoing open-heart surgery in September 2018 for a heart abnormality called anomalous coronary artery, or ACA, sat out most of the 2019-2020 season. He announced his decision to leave the UCLA Bruins via Twitter, "My parents have always taught me that transparency is the best form of communication. It is in this spirit I announced today my departure from the University of California Los Angeles (UCLA).
"I'm looking forward to the next chapter, whatever that may be. And a very special thanks to the UCLA fans for your continued support these past two years. You truly have been the strength that sustained me."
"I would like to give special thanks to Coach Steve Alford who recruited me here, Coach Cronin for developing me, and the awesome medical staff for giving me a second chance at fulfilling my dreams of playing on the next level. A part of my heart will always be at UCLA figuratively and literally."
Next chapter… thank you ❤️ pic.twitter.com/EzHd6zRnuE

— Shareef O'Neal (@SSJreef) January 23, 2020
Though he didn't reveal his future plans, Shareef was heavily recruited by other top schools including Arizona and Kentucky and undoubtedly has many options open to him.