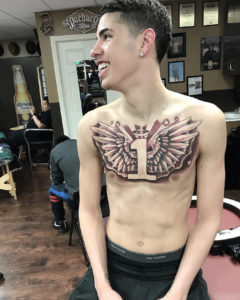 LaVar Ball's progeny is out here making absurd waves of own.
LaMello Ball debuted a giant tattoo that spans his entire chest. The set of wings may have been inspired by his brother, Lonzo's chest piece.
Speaking of Lonzo and tattoos, the Lakers point guard recently had his Big Baller Brand tattoo covered up. Not sure how LaVar feels about that.
Coincidentally, the artist that did Lonzo's cover-up also inked LaVar.