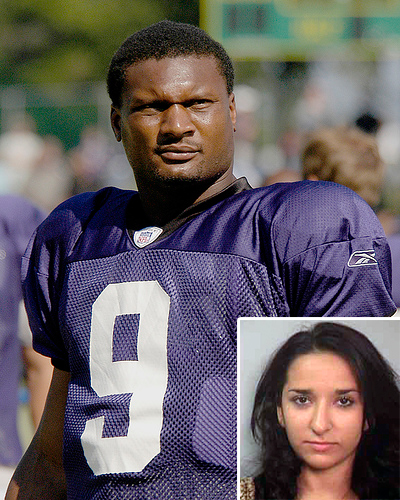 Police have ruled Steve McNair's death a homicide, pictured here during training camp for the Baltimore Ravens in 2006, but continue to investigate whether his girlfriend Sahel Kazemi (insert) committed suicide. Photo: tperry111
The body of former Tennessee Titans quarterback Steve McNair was found Saturday afternoon (July 4) in his Nashville, Tennessee condominium along with the body of a woman he's believed to have been dating, 20-year-old Sahel Kazemi.
According to police, McNair, 36, was shot twice in the head and twice in the torso. His female companion suffered a single gunshot to the head. Police are calling his death a homicide but are still investigating whether Kazemi's death was a suicide or if she was also murdered.
Sporting-goods dealer Wayne Neeley, who rented the condo with McNair, discovered the bodies. There were no signs of forced entry and the two appeared to have died "hours prior to the bodies being discovered," according to Nashville Metropolitan Police Department Spokesman Don Aaron.
McNair, who was married with four children, was seen at two Nashville bars on Friday night into early Saturday morning.
Police believe Kazemi was already at the condo when McNair arrived at around 1:30 am, since neighbors state a Cadillac Escalade driven by Kazemi was already in the parking lot when McNair arrived.
McNair played for the Titans for nearly his entire NFL career, leading his team to the Super Bowl in 2000, but falling short to the Rams 23 – 16. He played the last two seasons of his 13-season career with Baltimore Ravens before retiring from the sport in April 2008.