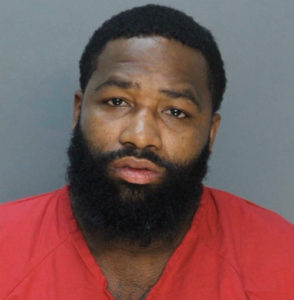 2020 just keeps getting worse for some people. You can count boxer
Adrien "The Problem" Broner
among them. Broner was arrested in Miami Beach late Friday night for driving under the influence. He was pulled over by officers around 8:45 pm and cuffed shortly after they determined he was intoxicated.
He remained behind bars on an 8-hour hold; leaving after paying a $1,000 bond.
The former boxing champion has been in a load of trouble legally recently, with accusations he sexually assaulting women, allegedly attacking people publicly, and failing to pay jewelry debts. Broner is becoming better known for his shenanigans then for boxing. He hasn't won a single fight since 2017, with his most recent loss in January 2019 to Manny Pacquiao.
Broner's was arrested this past February in Las Vegas for refusing to leave the MGM Grand Garden while at the weigh-in for the Deontay Wilder/Tyson Fury fight. After being released he tweeted, "Fresh out the slammer what's popping tonight Vegas?"
It doesn't seem as if his legal woes are troubling him, but instead fueling him to continue making poor decisions. As his nickname suggests, "The Problem", may have poor decision making skills. Those poor decisions may lead to negative consequences in and out of the ring.