Age Ain't Nothing But A Number, Right?
…At least according to Chi Ali, but he's doing 25 to life for murder so his judgment can't exactly be trusted. Rap has always been a young man's game. But lately it's been overrun with the almost 40 & over crowd. From Old Man Russell to Young Hov, these guys don't have to quit the business but they need to make room for the younger generation.
History's Made: In the early days of the Reagan years a young Russell Simmons hooked up with college student Rick Rubin who had just started a small punk rock record label. With Russell's help (the two would eventual become partners) the small company, Def Jam, grew to be the biggest outlet for hip hop music.
Fact: The fictional creature Godzilla was created (born) in 1953, three years ahead of Russell Simmons.
History's made: 1992 Ice-T records "Cop Killer" with heavy metal band, Body Count. Drawing the attention of politicians including president George H.W. Bush, the song took the prospective of and individual who -fed up with corrupt, dirty cops- decides to take justice in his hands and kill them.
In the years since, Ice has tempered his criticism of law enforcement, playing a cop on Law & Order for the past 7 years.
In 2004 Flav became a household name when he appeared on VH1's The Surreal Life canoodling the gargantuan ex-wife of Rambo, Brigitte Nielsen. That show spawned the idiotic Strange Love which begat the mind numbing Flavor of Love.
History's made: Before Flav clowned himself on TV he was the joker in the legendary, socially focused rap group, Public Enemy where he all but invented the role of the hip-hop hype man.
History's made: In 1988 at the age of 25 James Roberts, b.k.a. Ed Lover, takes the helm of MTV's first expedition into the world of Rap music, Yo! MTV Raps. The Show is the first nationally broadcast Rap music video program*.
Ed Lover's attention has drifted over the years from MTV VJ to radio personality and acting, and most recently as host of poker tournament, Hip Hop Hold Em, but his primary focus has remained on Hip-Hop.
Dr. Dre started his career with the World Class Wreckin' Cru in 1984. History's made: It wasn't until 1987 when he joined a newly formed group, N.W.A., did his talents begin to flourish. He broke ground again when in 1991 he, along with Suge Knight, founded Deathrow Records.
These days Dr. Dre can be considered the Howard Hughes of Hip-Hop. The beat maker has been a virtual reclusive since being assaulted at a 2004 awards show.
Although his career is not as illustrious as the people surrounding him, DJ Kay Slay is included in this list old-timers because he is the epidemy of the "Old Man at the Club."
Known as the Drama King for his mixed tapes where rap beefs are instigated, the 42 year old can always be seen dressed to the nines in the latest teen fashions… dude even Dame Dash took off the fitted cap. (Note: No historic achievements).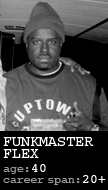 History's made: As assistant to DJ Chuck Chillout in the late 80s, Funkmaster Flex quickly rose through the ranks of the radio industry to become a very sort after club DJ as well as commanding a popular show in America's #1 & #2 radio markets (New York & Los Angeles) and becoming an enormously influential figure in Hip-Hop.
Fact: Flex added the "Funkmaster" to him name after seeing it on a party flier promoting another DJ by that name.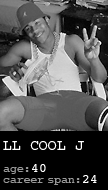 History's made: 1984; 16-year-old James Todd Smith becomes the first artist signed to Def Jam records. He later becomes the label's top draw. In the 80s LL Cool J was known as "The Future of the Funk" but in today's younger, butally competitive market The married fathger of 2 has become the ghost of hip hop past.
Fact: LL is as old as Celine Deon. That should automaticaly disqualify him from anything Hip Hop related.
His infamy began in 1991 when he promoted a concert at City College of New York that ended in 9 deaths and continued in 1997 with the murder of one of Rap music's most influential voices.
History's made: Combs dropped out of college in hopes of achieving his dreams. Which he did. Becoming the youngest record executive. In 1989 Combs became VP of A&R at Uptown Records, overseeing projects from Jodice and Mary J. Blige.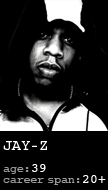 Jay-Z has evolved from rapper to near-billionaire entrepreneur. Trouble is he refuses to give up the former, despite retiring more than three years ago. While rival rappers attack him for being too old, 39 in the non-Hip-Hop world isn't that old.
History's made: The former drug dealer(?)/current millionaire mogul recently tied Elvis Presley's 2nd place record for having the most #1 albums, he's bested only by The Beatles.