Edward Furlong found himself behind bars on Tuesday (Jan. 11) after violating a restraining order that barred him from getting in contact with his ex-wife Rachael Kneeland.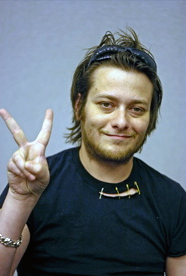 Edward Furlong poses for pictures during the 2009 London Film and Comic Con. The actor was arrested on Tuesday (Jan. 11) for violating a restraining order. Photo: Shorty AZ
Furlong, who's best known for his starring role in 1991's "The Terminator 2: Judgment Day" and 1998's "American History X", was released from police custody after posting bail. But his saga didn't end there.
Furlong came face to face with his ex the following day (Jan. 12) as the two appeared in court to battle over child support and alimony payments, Kneeland is seeking to get the payments increased but Furlong argued that he can doesn't have the funds to keep up with the current payment agreement.
Furlong had been ready to go promote his latest film, "This is Not a Movie", an English-speaking Mexican release, but he was dropped by promoters following his arrest.