Singer Christina Milian took to twitter this week after compromising photos of her husband, The Dream, and his assistant, Melissa Santiago, appeared online.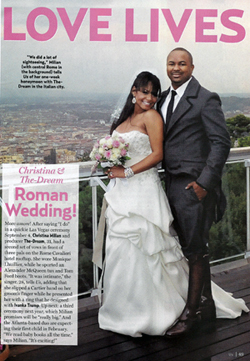 Christina Milian and The Dream, who eloped in Las Vegas in September '09, pose for pictures during a second ceremony in Rome in December '09 (above). The two announced the end of their marriage this week.
In the photos, taken over the weekend, Dream and Santiago are seen on a Caribbean beach locked in embraces typically frowned upon in employer/employee relationships, with The Dream in one shot palming his assistant's behind.
"Whatever you think, believe it," Milian posted on twitter, signaling an end to the brief 10-month marriage and confirming weeks-long rumors that their marriage was in trouble.
The Dream later released a statement, through his rep, to US Weekly, telling the gossip mag that he and his wife were on the rocky since late last year, but decided to stick thing out for the sake of their daughter:
"Terius 'The-Dream' Nash is saddened to announce that his marriage to Christina Milian was unsuccessful. The couple reached this decision in late 2009, but decided to keep the news private in efforts to protect their baby daughter, Violet. They ask for consideration and respect for their family moving forward."
In September of 2009, while expecting their first child, Milian and The Dream eloped to Las Vegas, followed by a formal ceremony in Rome in December. Milian gave birth to a girl, Violet, in February 2010.
[nggallery id=3]